Hand Scraped Wood Floors: The Newest Trend on Flooring
Hand scraped wood floors have once again become fashionable flooring options. For a while, it was the smooth, flat, and glossy variety that ruled the roost. These smooth wooden floorings were manufactured with machines. Even the laminates and engineered hard wood floorings aped this finish. Now that hand scraped wood floors have once again come into limelight, understanding what such floorings are all about, their advantages, and costs becomes necessary.
Characteristics of Hand Scraped Hardwood Flooring
These wooden flooring planks have more rugged appearance. Wooden flooring that is hand scraped gives the room a vintage ambience. Such floorings became a norm in the 17th century. Scraping was done by hand to reduce the level differences between one wooden plank and the other used in the floor. After power sanders were developed, human labor was reduced, and wooden floorings became increasingly even. Former wood craftsmen who made such floors began experimenting with such planks giving the flooring a distinct look by artistically sculpting, laying, hammering, and chiseling planks.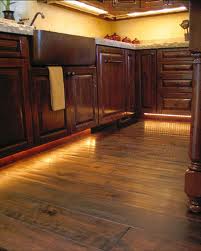 On average, thickness of such smooth wooden floorings is about ¾ of an inch. In contemporary hand scraped wooden flooring, the imperfect look of the past has returned. The wooden planks of such flooring vary in thickness as well to give the flooring an authentic look. These hand scraped hardwood floors are further classified based on natural wood patterns, or artificial imitations of characteristics found in natural wood. Some of the most popular styles include: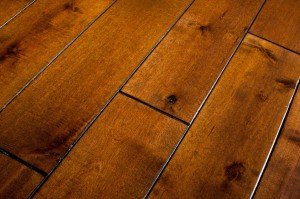 Natural wood develops cracks, which is covered in the smooth hardwood varieties. Such cracks are retained or deliberately created to give the flooring an authentic hardwood look. Indentations or unevenness that exists naturally in the wood may be retained, or artificially created on such wooden flooring. Even holes similar to the worm holes in natural wood may be artificially made in such hand scraped wooden flooring varieties.
Other Varieties
There are engineered varieties of this type of hardwood flooring as well. Such engineered wooden floorings with hand scraped texture offer greater flexibility for installation. Distressed varieties of hardwood flooring with artificial indentation and hand scraping are also available in the market. Such distressed varieties are ideal if the interiors require wooden flooring looking considerably old. There are innumerable options of such hand scraped wood floorings offered by online businesses such as Wood Floors Plus.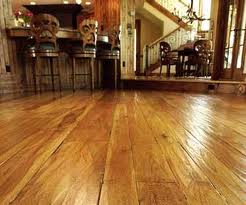 Advantages
Notwithstanding the use of hand scraping look on the hardwood flooring, these floorings too have modern finishing. Such finishing, however, does not disturb the natural look of the wooden flooring planks.
Because of the unique finishing this type of flooring has, it is possible to find such hand scraped wooden flooring varieties of different colors that blend with colors of the room.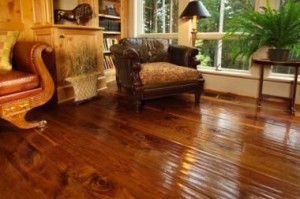 And since they have unique patterns on the outside, you can enjoy a one-of-a-kind design that only this flooring option can give. Unlike machine-crafted flooring, each board comes in diverse designs; which is in contrast with the former which boast uniform patterns on the surface.
Another noteworthy advantage of these floorings is that some of the minor scratches and blemishes only add to their appearance, unlike in case of smoother varieties of hardwood floorings wherein scratches and stains can become rather unpleasant to the eyes.
Conclusion
As of date, hand scraped wood floors cost anywhere between $4.50 and $8.28, including installation cost. This cost, however, differs from area to area, and the complexity of flooring installation. There may be labor charges for leveling and other damage repairs as well, which can be determined only after inspecting the site. However, there is a margin included in this cost for any repairs or fabrication that may be required on site.